Dead Man's Chest - Blog #44
Greetings Craftadians!
Today, we're releasing a brand new event crate, discussing our tax milestone, celebrating 150,000 unique players, discussing staff, and hinting at upcoming updates.
Pirate Crates 🦜
Captain Jack has arrived at Spawn, with a ton of new offerings!
We've additionally activated a 15% Sale on every package on the Store in celebration of the new crate!
For the first time, you will not need Optifine to see certain textures featured in this crate. This means all players can enjoy the custom armor regardless of what mods they play with.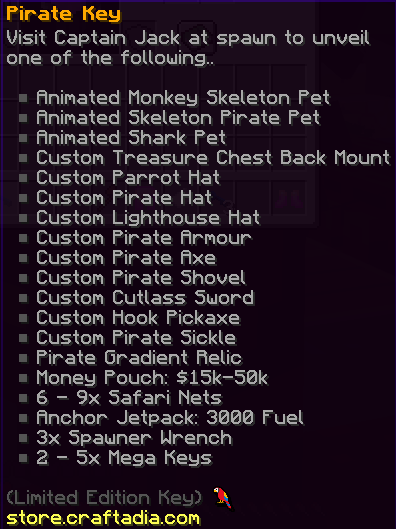 Some special highlights to mention:
All of the Pirate armor pieces are visible to all players regardless of Optifine usage.
The Skeleton, Monkey, and Shark pets have unique walking and idle animations and contain the "Epic" rarity.
The Pirate Hook Pickaxe is animated and contains the "Epic" rarity.
The Pirate Axe contains Silk Touch.
The Pirate Crate features a special Anchor jetpack.
The Pirate Crate features a special Gold Coin Chest back-mount.
The Pirate Gradient Relic can be applied on any item to give it a Pirate-inspired gradient name.
The Pirate Armor features Fire Protection.
You can see complete details on every custom pet, hat, armor piece, tool, and item by clicking here.
150,000 Players 🎉
We recently reached over 150,000 unique players on Craftadia.
Just like previous milestones, we're going to be giving away an extremely limited set of 150,000 Player Shovels to commemorate the special milestone.
Head over to Discord and react to our most recent announcement to enter; five winners will be selected with our next post.
Tax Milestone Reached 💸
Our first tax milestone has been reached. When players that have contributed to the tax system login, the reward (in this case, a unique particle effect) will be delivered into your /cosmetics menu (even if you don't see it yet).
Over the next 48 hours, you'll be able to activate the particle trail and bask in its glory.
Stay tuned for the next tax milestone, which will be announced in a future blog post.
Olympic Game Scheduling ⏰
Olympic Games will start to be scheduled regularly starting later this week.
As a reminder, unranked games will run on the weekdays to practice for the ranked games running on weekends. Ranked events on the weekends will give you points that you can use in the Olympic Shop to redeem rare rewards.
Staff 📝
We're scaling up our staff team due to the recent influx in players. Expect to see new faces on the team shortly, as we work to ensure that our support systems are as good as can be. If you're interested in joining the team, please apply here.
Additionally, with our upcoming quality-of-life update, we'll be introducing tools designed to help new players learn information more effectively.
Upcoming Updates 👀
We've got two more large-scale updates releasing over the next week before we shift our focus completely to quality-of-life.
Look forward to a separate blog post in the next few days detailing these new updates.
Misc. Updates & Changes 📫
Through the week we are constantly making changes and adding new things. Here's a list of some of the smaller things that happened this week:
The Hellforged Hoglin no longer dies in 3 hits.
Fixed issues preventing tax free weekends from being activated.
Fixed issues preventing voting sites from properly delivering rewards.
Fixed golden tiki hat not appearing as unlocked.
Fixed some items having incorrect descriptions.
Added missing items to shop directory.
Fixed excavator not working on copper & nether quartz.
Fixed wording on /ecohelp.
Vote keys can be sold in chestshops.
Fixed nether portals not working when a jetpack is equipped.
Fixed shop directory showing empty shops.