Greetings Craftadians!
Today, we're releasing a brand new event crate, announcing our Beach Party build competition winners, addressing taxes, and giving a sneak peak at what's to come in the near future.
Retro Crates 🕺
Disco Dave has arrived at Spawn, with a ton of new offerings!
We've additionally activated a 15% Sale on every package on the Store in celebration of the new crate!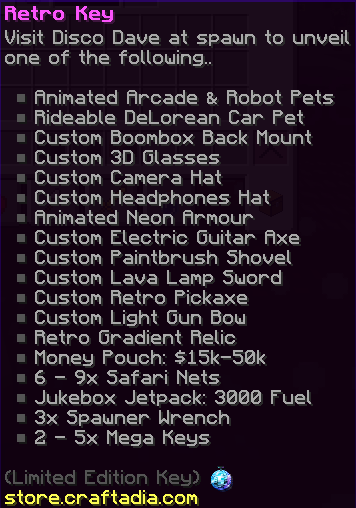 Some special highlights to mention:
If you have Optifine, you will be able to see armor that has "+ Optifine Texture" in the lore. This is applicable for the Neon Armor featured in this crate, and all new armor pieces going forward.
All pieces of the Neon Armor are animated.
The Arcade Machine and Retro Robot pets have unique walking and idle animations and contain the "Epic" rarity.
The DeLorean Pet is animated, and, as the first "Legendary" pet, is rideable.
The Light Gun Bow features a Disco Trail, and contains the "Epic" rarity.
The Retro Crate features a special Jukebox jetpack.
The Retro Crate features a special Boombox back-mount.
The Retro Gradient Relic can be applied on any item to give it a Retro-inspired gradient name.
The Neon Armor features Blast Protection.
You can see complete details on every custom pet, hat, armor piece, tool, and item by clicking here.
Addressing Taxes 💸
Your recent feedback on the tax system introduced with Season Three has not gone unnoticed. We're continuing to monitor player feedback regarding this system, and plan to periodically adjust the system to account for concerns relating to player experience.
With that being said, the tax system has not properly rolled out due to the season just starting. Players are yet to experience tax milestones, tax free holidays, and other mechanisms that will be useful in earning tax-free income.
The underlying sentiment is that taxes will never be something adored by the community, but are necessary to help regulate the economy. We hope that the introduction of the aforementioned updates will lessen the burden of taxes on players.
Our First Tax-Free Holiday 🎁
From Friday, August 20th, to Sunday, August 22nd (at 11:59 PM PST), our first tax-free earning period will become active.
All income earned during this period will not be subject to taxation.
Our First Tax Milestone 💵
Over the next 48 hours, our first tax-milestone will activate, with a viewable progress bar accessible using /milestone. Every player that contributes towards taxes while this milestone is active will receive a special reward.
For this first tax-milestone, contributing users will receive an exclusive particle trail. Future tax-milestone rewards will include new expansions of Spawn, special events, sprays, particles, and more.
Craftadia's Upcoming Banking System 🏧
As announced on our feedback site, we've been working on a system allowing players to interact with a formal Craftadia Bank. One of the many features this bank will have is the ability to earn tax-free interest on cash, gemstones, and moonstones. Stay tuned over the coming weeks for the rollout of this system.
Beach Party Build Competition Winners 🌴
We're excited to announce that the Beach Party Build Competition has concluded, and the winners have been selected by the Staff Team! Thank you to everyone who participated in this competition, and a special congratulations to our three winners.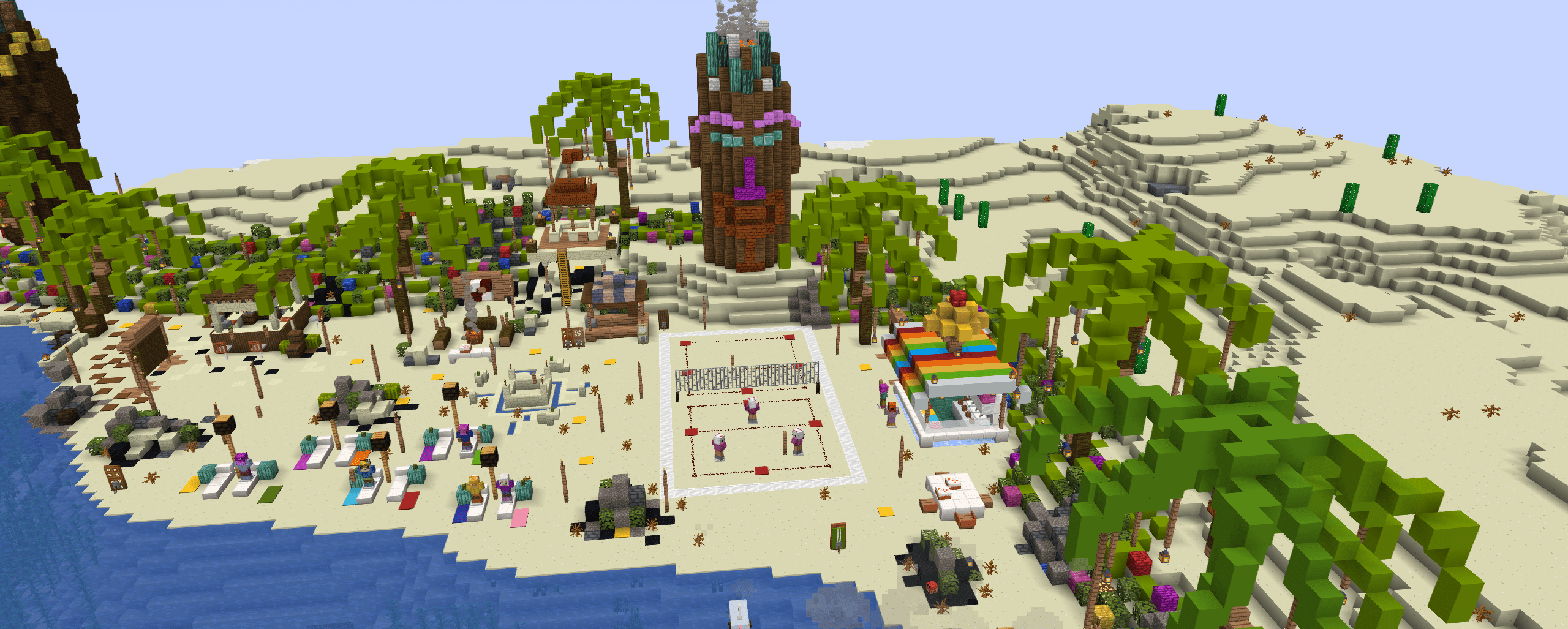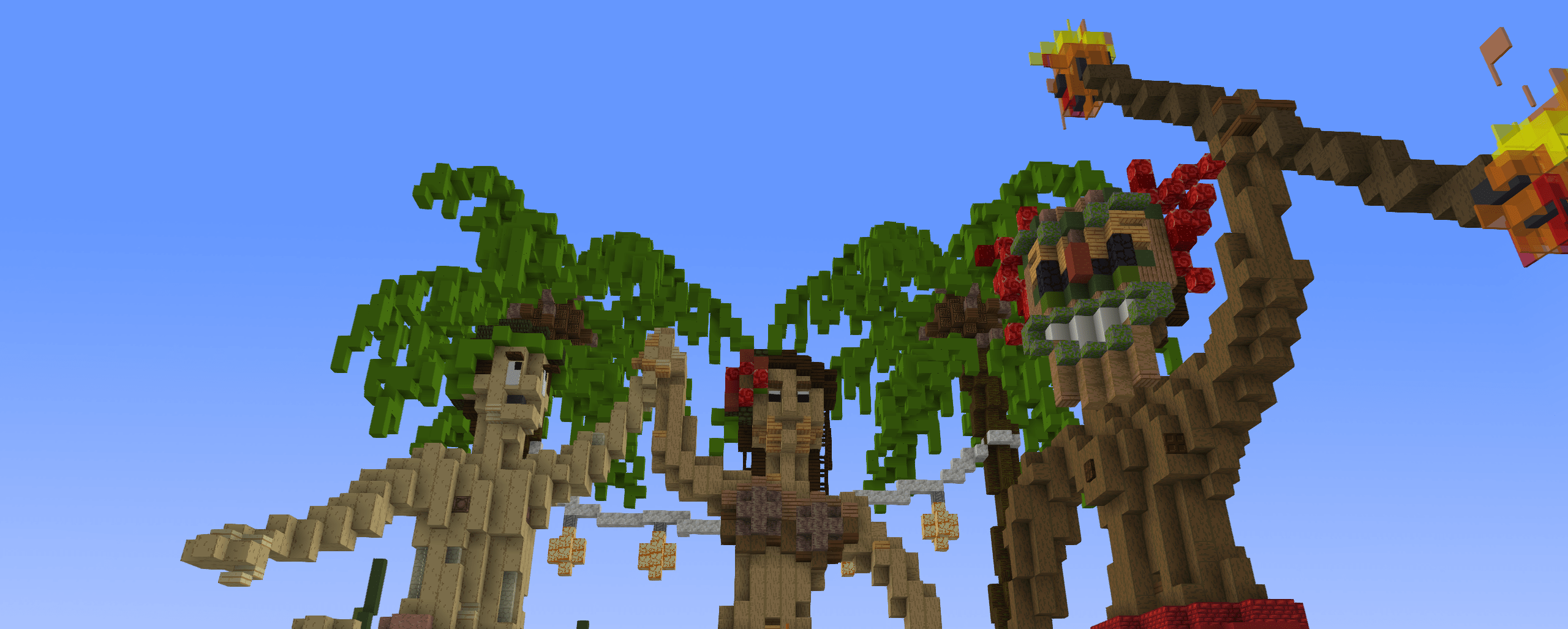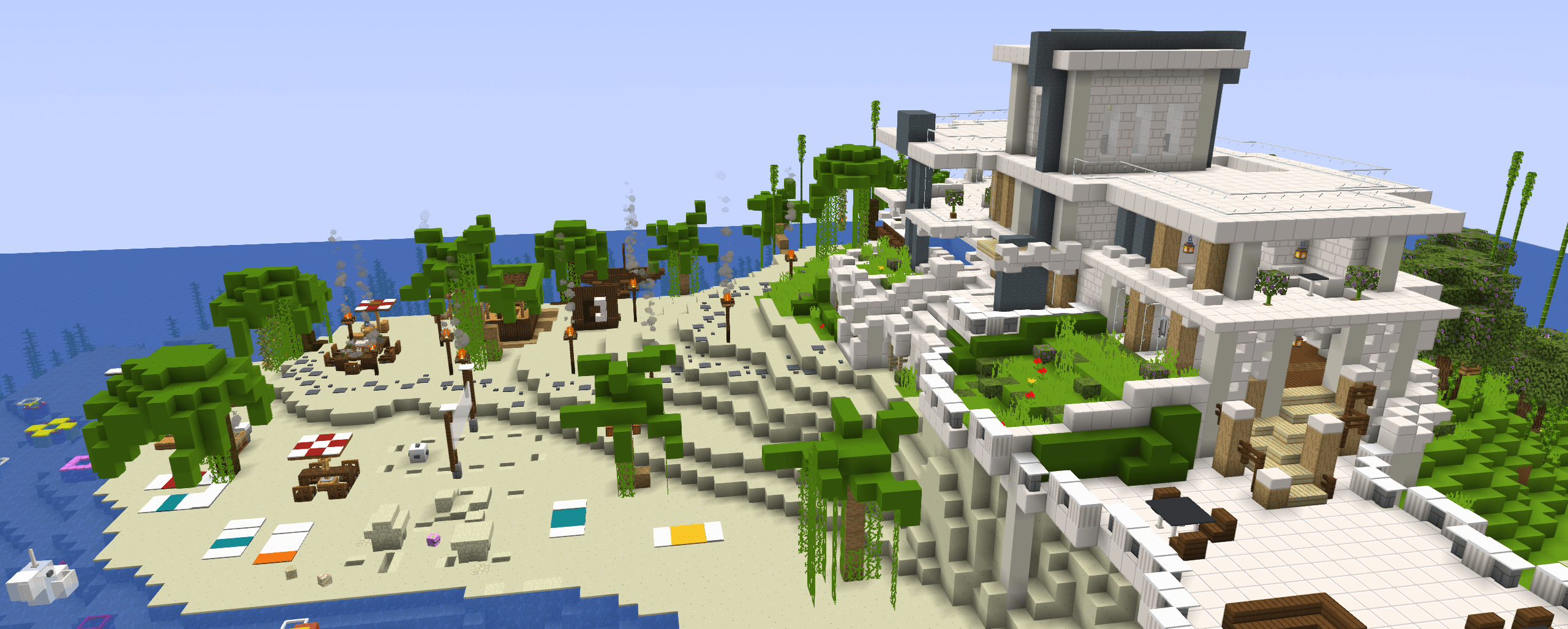 Thank you again for everyone who participated and be sure to congratulate the winners on their amazing builds!
Staff Applications 📝
We have re-opened our staff applications as of this month. If you are interested in applying for a staff position, you can do so by filling out the application form available at craftadia.com/apply.
If you have previously submitted an application during Season 1 or 2, we recommend you submit a new application to show your interest in the position now. We will reach out via Discord if you've been accepted to the next stage or for follow up questions, but do not be discouraged if you don't hear from us in a months time. We consider applications for many months after they are submitted.
Upcoming Updates ⏰
We've been hard at work swapping to new machines with better performance, upgrading our internal systems, and squashing Season 3 bugs. Because of this, several updates have been in the back-log that are now about to start rolling out.
We're extremely excited to release four large-scale updates over the next few weeks.
Misc. Updates & Changes 📫
Through the week we are constantly making changes and adding new things. Here's a list of some of the smaller things that happened this week:
Fixed the Nature Vendor.
Craftadia regulations have been updated for additional clarifications - https://craftadia.com/rules/.
Server regulations on speaking non-english languages have been updated.
Fixed town XP depositing.
Fixed dropping items & some rare deaths while rebooting.
Re-enabled mob griefing.
Fixed an incorrect color in the server list.
Fixed some issues with resource pack loading.
Fixed being stuck in the reboot screen.
Store theme has been fixed.
Fixed incorrect icons displaying in Vendor Shops.