Want to maximize your "coolness" and instantly be a better version of yourself? Oh boy, I've got a product for you. This week we dive into the brand new Summer themed Crates, check it out!
---
NEW Summer Crates 🌊
We're right in the middle of Summer Break now, and what better time to continue the themed festivities on Craftadia! Summer Crates are our first custom Crate theme, where we tried to create a full experience for those wanting to try their luck! These crates offer an incredible animation, and a new dedicated area at spawn - just for them!

This new Crate is limited edition, and will only be available until THIS FRIDAY! Being a special item, it includes some awesome new items, and in general a much better chance at getting great rewards. In-fact, it doesn't have a bad reward in it!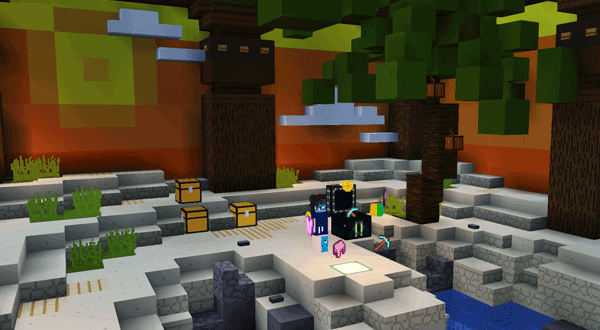 Within these new rewards is a brand new Summer Armor set! This armor is what we consider the "Ruby" version of armor, hosting a variety of enchantment levels that cannot be obtained via vanilla gameplay. It is without a doubt the best set in the game, and certainly worth chasing! Here's a look at everything you could win: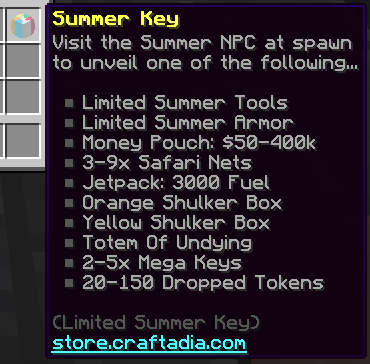 pwign says: The Summer Crates update is one of the most beautiful and well-made events I have ever experienced. Even though the crate is only available for a limited time, it definitely is my new favorite place in spawn as it's packed with some spectacular animations. I'm very excited to see the room comes to life whenever a crate is opened.
Network Stability ⚡
This week, one of our main priorities has been continuing to stabilize the network and ensure our players can have a smooth experience. We've noticed a few issues that have resulted in our worlds becoming laggy during certain times of the day, and you will have hopefully noticed this becoming much better as the week goes on.

We will continue to work on these issues over the coming week, as we push to hold more players per-world, and offer a perfectly stable network year-round!
That's all for this week everyone. Hope you all have a great week, and be sure to check out the limited edition Summer Crates before they're gone! See them here: https://store.craftadia.com/category/1256642