New Store & Discord Linking - Blog #4
Who let the dogs out? It wasn't me, but that's beside the point. Welcome back to another weekly blog where we'll be going over our new Store design and plenty more adjustments and additions. Hold on tight!
---
New Store Design 🛠️
Our largest project over the past week has been our brand new store design. We set out to create something bright, fun and full of energy, while still being functional suiting our content. We hope this new and completely original design gives our players the best possible browsing experience. Along with this, you'll see a new perk available in the extras category; Chat Item Displays!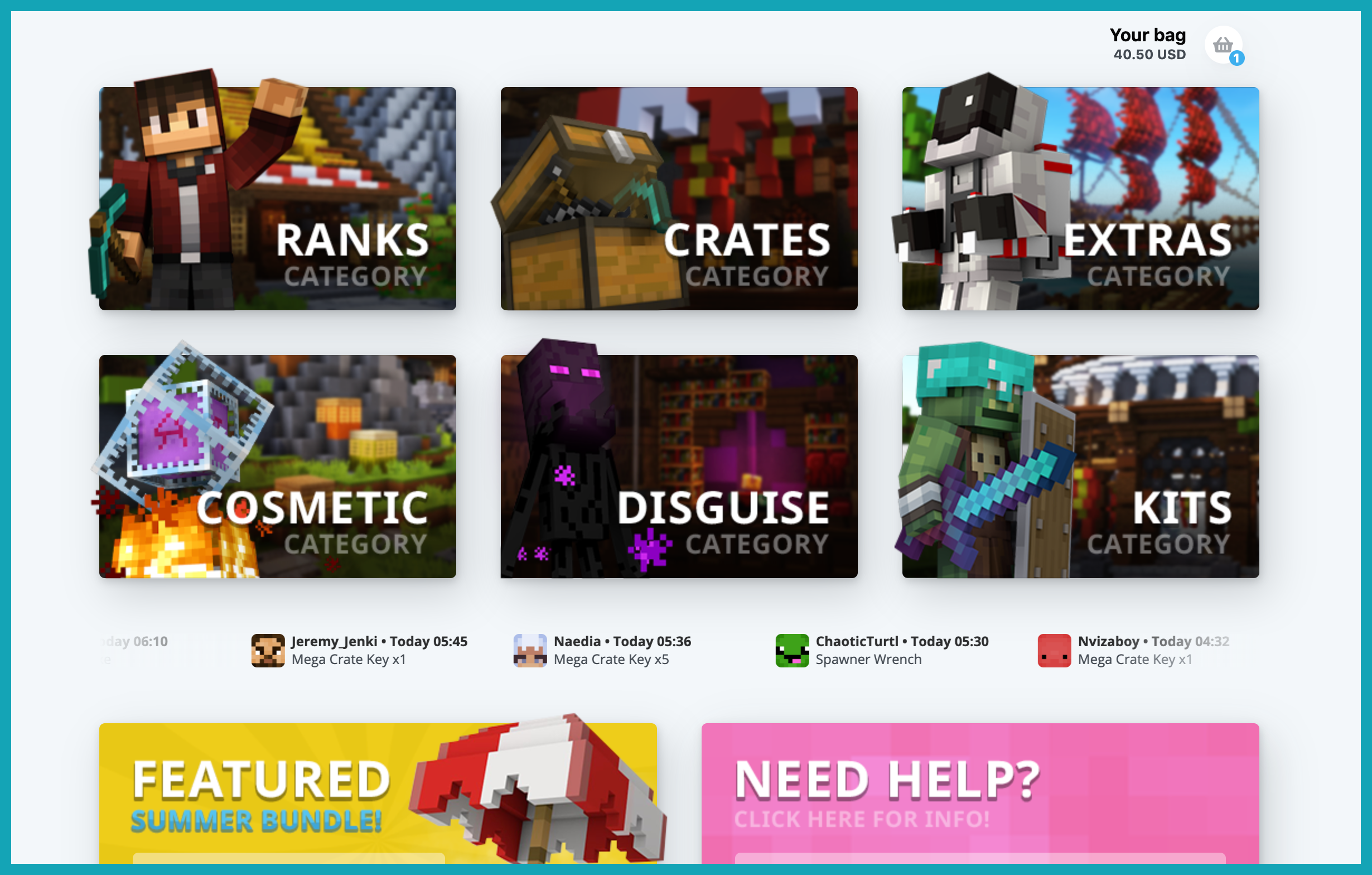 Rebecca_Duck says: The new store design is way easier to navigate than before. With the images on each tab, it gives a lot of information as to what will be in that category. The new design makes everything look neat as well as nice, and simple.
Discord Linking 💎
As we continue to put an emphasis on our Discord community, we're now allowing users to sync up their in-game account, and get their donator ranks on Discord too! This allows users to stand out that little bit more in chat, and also offers access to the new Donator voice lounge. In the future this will lead to rewards for linking your account, along with awesome perks for boosting our server too! To link your in-game account to our Discord, use /discord in-game.
New Youtube Adventurers 🚶🏻
With a new month upon us, we're starting brand new adventures with awesome new creators! Joining us on Craftadia in the coming weeks are Krinios, Pokeh and ImpuleSV, along with others in the works too! This doesn't mean any of the existing creators won't be around, we're just opening up the network to some new faces as we continue to grow and expand as a network. Be sure to wave if you see them online! 👋
Misc Updates & Changes 📫
Through the week we are constantly making changes and adding new things. Here's a list of some of the smaller things that happened this week:
Crops can now be broken and placed by anyone inside of public claims.
/g tptoggle has been added to toggle your instant-tp status within your guild.
Renaming and Transferring guilds is now available.
Added multiple patches to prevent people from going invisible in pvp, and teleporting into the arena.
Made the /msg chat format more clear and easy to read.
Thanks for checking in once again, and we'll see you in-game!